MA Creative Practice
The course allows you to develop your academic work with a research symposium to meet with other artists and academics to discuss artworks and themes. You'll receive personalised support based on your practice, and the space to develop your creative practice in a multidisciplinary environment. Acting as a form of percolation, your work will be distilled for exhibition, ready to be shown to the public. Develop your arts practice – sign up for the MA today!
For all relevant policies and procedures and other relevant documents please see the University Centre Leeds website here.
This course is validated by The Open University

Cost

£3,975 per academic year

Exam Fee
When

01/09/2021

Duration

2 Years

Level

Level 7

Attendance

Part Time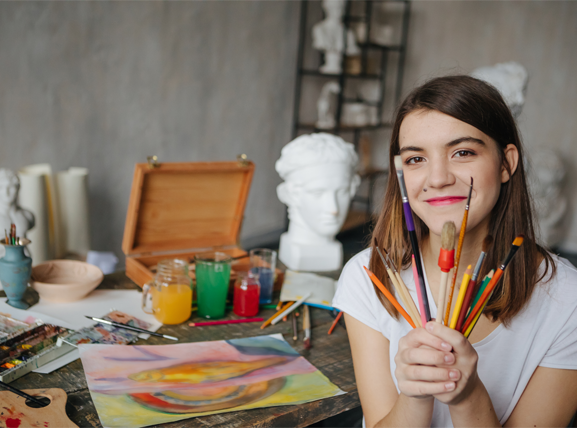 Modules may include:
Critical Contexts and Practice Methodologies
Research and Development
Practice in Context Module
The Master's Project
Through the interview process the MA coordinator confirms that aspirations lie within the remit of the MA programme in terms of advanced creative practice, rather than pure research (if this is not the case, applicants will be counselled regarding more suitable MA options) and that we can fully support the student with appropriate resources and supervision.
The process of admission is that students wishing to apply for Masters study in Hull or Harrogate will do so via an on-line application form. An interview takes place at this point, where prospective students discuss their project proposal. The next stage is that a prospective student produces a proposal which identifies, in broad outline, the initial practice proposal (synopsis, aims, context, and support requirements) with an accompanying bibliography. At this point the decision is made by the MA coordinator whether the application is either rejected or accepted, and who will notionally supervise the practice, and a letter confirming the decision is sent out.
The decision is based upon:
The quality of the initial research proposal.
Estimated or actual undergraduate achievement normally indicating a 2:1 or first class Honours degree.
References from undergraduate staff or where relevant an employer.
Undergraduate achievement.
Portfolio of previous creative work.
The ability to initiate and sustain MA level independent study as evidenced in references, presentation and discussion around the viability and relevance of the initial project proposal and responses to questions at interview which test the students understanding and potential ability to work at a higher level.
An assessment of the applicants' intellectual and motivational abilities through the interview process.
The College's ability to support the intended research project in terms of resources including staff expertise.
Applications from overseas students with an IELTS score of 6.5 are welcome. The programme actively supports claims for Accreditation of Prior Learning (APL) and Accreditation of Prior Experiential Learning (APEL).​
For the latest version of the course handbook for this course please click here.
For the latest version of the programme specifications for this course please click here.
For the latest version of The Open University Regulations please click here.