Eye-catching artworks on show at Harrogate College
All kinds of eye-catching artistic creations have gone on display at Harrogate College.
The college launched its FE Art and Design End of Year Show, to showcase the amazing variety of work that has been produced by art students, in June.
Lots of parents, carers and students – plus the Mayor of Harrogate, Councillor Victoria Oldham – turned out to view the drawings, paintings, ceramics and print works on display at the launch.
Many of the pieces will now adorn the college's corridors throughout the summer, so visitors still have plenty of time to get along and enjoy them.
A celebration of creativity and hard work
Johnathan Leng, who is the Level 3 course lead for FE Art & Design at Harrogate College, said: "Our end of year show is the culmination of a year's work across four levels, and displays the full spectrum of art practice that our students experience here.
"The show allows the students to celebrate all the hard work they have done over the course of the year and display it in a professional manner.
"Although there was a show last year, this was very much scaled down due to pandemic restrictions. So this year has been particularly important for our completing second year students. This will be great preparation for either university or the personal exhibitions they have in the future.
"Examples of drawing, painting, ceramics and printmaking – which includes etching, lino and silkscreen – can be seen. We also have a broad range of photography on display, both in black and white and colour and produced using digital and traditional cameras.
"Visitors can see films that were shot and edited by our students too, along with an animation, a 3D installation, comic books, illustrations, furniture design, garment design and more.
"It was an exciting show with something for everyone. I encourage everybody to come and see what our talented students have achieved this year."
An amazing way to round off the year
Some of the artworks carry a political or social message, such as Sarahjane Liu's collection of origami shirts sporting faces. Sarahjane, who is a Year 2 Level 3 Extended Diploma in Art and Design student, said: "My piece represents how normalised racism towards the Asian community has become."
MA Creative Practice student Hannah Alderson's The Joy of Clay, meanwhile, shows the results of a collaborative project that involved using clay therapeutically with a variety of specialist groups.
Johnathan added: "Many of the first-year students were unaware of the buzz that surrounds the private viewing, and could not believe the amount of people who approached them to speak about their work.
"The launch evening was a particular success for Natalie Hunter, who had numerous requests from people to print extra sets of her beautifully designed Tarot cards.
"As a tutor it was an amazing way to finish the year off, and rewarding to see the hard work all the students put into their course displayed in such a professional way."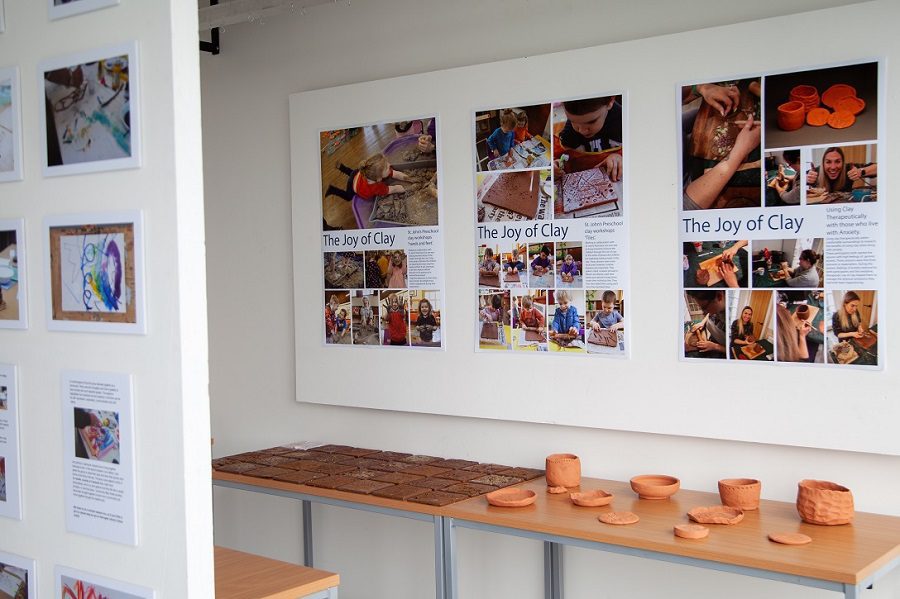 A film of the show's launch night, produced by The Harrogate Informer, can be viewed on YouTube here.
The full show finishes on Friday 15 July, but many of the works will remain on display around the college over the summer.