A FRESH CANVAS FOR ARTIST PAMELA
Art has been a source of inspiration and support throughout Pamela Craven-Davies' life.
Painting has helped the 51 year old through some incredibly tough times – and is now, as she approaches the completion of her Creative Practice MA at Harrogate College, offering her 'a new beginning'.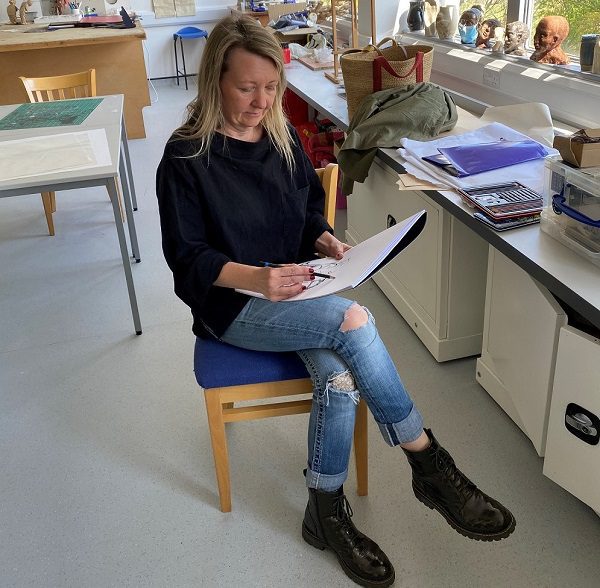 Pamela loved art from a tender age and it threw her a lifeline when she was struggling, due to what was later found to be dyslexia.
She tasted early success at the age of 12 when she won a watercolour painting competition and, despite some discouraging career advice, she persevered and pursued art as a mature student, first at A level and then at university.
In her thirties and with a young family, she then began doing freelance stained glass work and creative activities in schools, colleges and churches in the Harrogate area.
That wasn't to last, however, as tragedy struck when Pamela lost her second child, who had been born with a brain aneurysm, at the age of two. It was an event that completely changed her life and saw her focus her efforts on the care of her other two children for the next 17 years.
Then, as time passed and her children became more independent, she realised it was time to give her love of art another chance – and she enquired about Harrogate College's MA.
FILLING THE VOID
"When my son left for university I was overwhelmed with a new grief – and a continuing grief from losing my second child.
"It was at that point I knew it was time to find a way to fill that void and deal with my grief.
"I feel very lucky to have met my tutor, Annabel Smith, and to have had a chat with her about the MA Creative Practice and my situation.
LOCKDOWN CREATIVITY
"For me lockdown has had more benefits than negatives because of my MA. My focus has been to create something every day whilst at home.
"Next to my teenage, almost grown-up children – when they are at home – painting is my safest and most precious place.
"I feel like I have had extra time with my children during lockdown and an opportunity to push everyone around me to accept that I am an artist: and this MA has inspired me to find out about other artists and where I stand in the mix."
EXHIBITION SUCCESS
As part of her course Pamela exhibited her work, alongside her fellow MA students, for the first time last December – and received a brilliant response.
"I had never exhibited before and I was very nervous and apprehensive.
"I had not done as much work as I would have liked but I still managed to put on a good display and I sold five artworks.
"That gave me some confidence and also gave other people confidence in me. I have had offers from Weetons Food Hall, in Harrogate, to display my work during June and July and also at the Wandahome stand at The Great Yorkshire Show. And I am also exhibiting with fellow students at Henshaws Arts and Crafts Centre in Knaresborough: all running simultaneously for my final module.
"This is now the position I am in, having confidence in myself, finalising and committing to my exhibitions and producing the work I want to show to demonstrate the type of artist I am and how I see things.
"I think this is another beginning. I am aware that life has its twists and turns and it is a journey; I am taking one day at a time."
LIFELONG LEARNING
To celebrate adult learning, Leeds City College is participating in the Festival of Learning; a year-long recognition of mature learners and their achievements.
Pamela said: "I don't know what I would have done without adult learning. It has seen me through judgements, disbelief, grief, divorce and voids in my life – and set me on a career path of my choice.
"I have received positive feedback and gained confidence each time I have entered adult learning. I have also taken courses in counselling and teaching at Harrogate College, made friends and found the college to be easily accessible.
"I would urge anyone to take up adult learning no matter what their age or interest. I can see myself doing another degree if I had the opportunity – learning is just amazing and addictive and takes your mind off the problems of life."
Discover more about our adult offering here.
A selection of Pamela's work, meanwhile, can be viewed at pamelascreativepractice.com.