Harrogate College's first month-long green initiative gets positive response
Harrogate college went green in March, as part of its ongoing commitment to environmental sustainability.
The college has been promoting green business practices across the district over the past 18 months and in that time has launched various initiatives such as the Retrofit event and course, as well as taking part in Harrogate's first Climate Action Festival last year.
There was something for everyone on a month-long calendar, from learning about the facts about climate change and how to live 'greener', to students supporting and pledging daily actions to reduce their impact on the environment such as walking or cycling to college, and using public transport for longer journeys.
Staff and students also participated in wildflower planting, hosted an art exhibition and held a series of educational webinars.
Megan Hawkswell, Student Enrichment Coordinator at Harrogate College, said: "We have an ongoing commitment to work in an environmentally-friendly and sustainable way.
"We wanted everyone to be included this month, from those working in the office or at home, to people who just wanted some helpful eco tips for their family.
"Together with our staff, students, and stakeholders, we're doing our bit to be greener. We're beginning to make long-standing changes that will leave a positive impact on the environment and the local community. We believe that schools and colleges should continue to teach this as part of the curriculum."
Other activities included coming up with suggestions for what the college can do more of to support students to take care of the environment, including increasing the amount that is recycled in college and reducing single-use materials that are sold or or given out, as well as teaching more about environmental issues.
Litter picking heroes
While the students contributed and learnt more about sustainability, they also went the extra mile, with more than 20 students and staff taking part in a litter picking exercise around the college site.
Megan said: "We collected litter and cleaned up areas of the campus. The huge strides we need to create clean parks and streets we all want to see in the district, are made up of small individual steps in our own environment. We want to empower everyone so they can collect litter in their area.
"As well as protecting wildlife from getting injured by discarded litter and improving the look of our local environment, this was also the start of clearing the site of the new college garden, ready to begin planting with our wildflower seed event on 29 March."
The college has also planned another litter picking event, which will take place on 10 May. Students and staff will also be visiting Redcar Beach to take part in a beach cleanup project.
Raising the green profile through art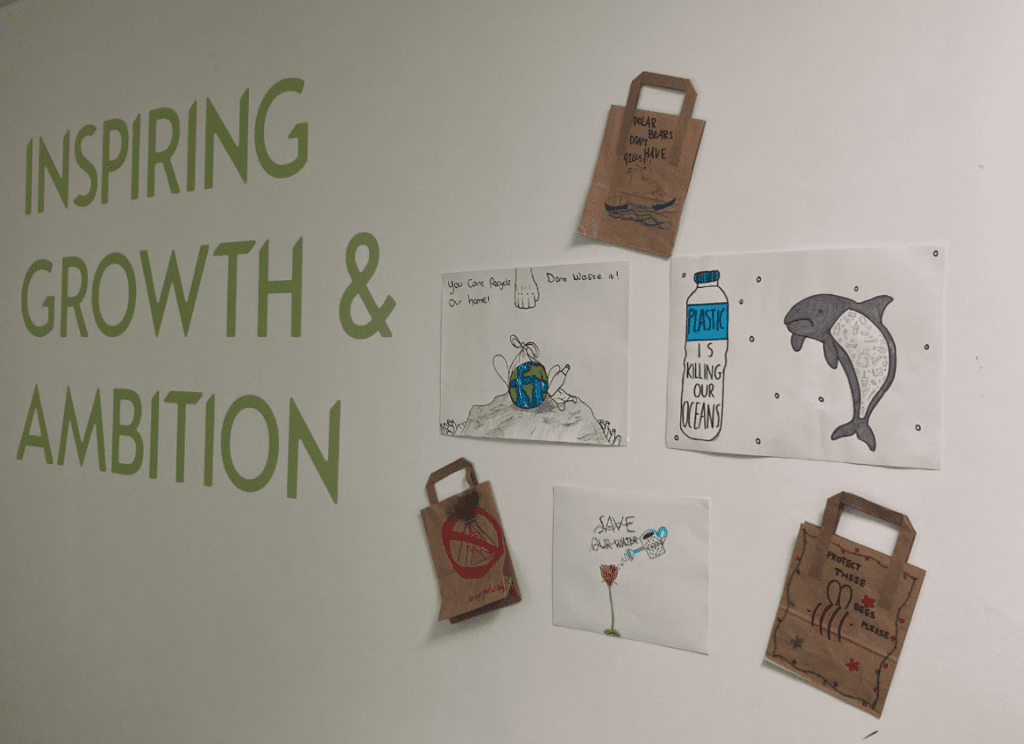 Students from across the college have also used the transformative power of the arts to promote awareness, by creating a series of art pieces and posters connected to environmental issues.
All art pieces and posters were displayed across the college, and some of the work included an upcycled outfit , fast fashion infographics produced by an electrical installation student and a poster promoting cycling to college which was created by a Creative Media student.
Fighting Food Waste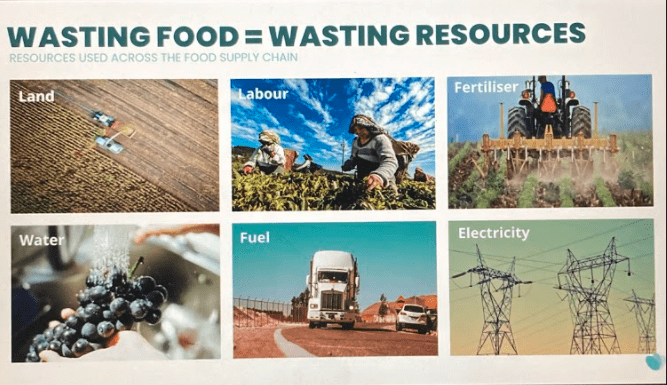 The college invited Lucy Mccarey, from Too Good To Go to talk to students about reducing food waste.
Lucy, who has spent over two years fighting food waste, and is passionate about the planet, introduced students to her top tips such as planning meals and storing food correctly – as well as using resources like the Too Good To Go app, where individuals can buy discounted food from organisations to prevent it being thrown away.
Megan said: " Lucy's webinar was both informative and inspirational. Most of us probably throw away far more over the course of a year than we think and the webinar highlighted what we can do better to reduce food waste.
"We're continuing to promote the Too Good to Go app and sharing some of the key statistics around college, so that more people learn about this."