Creating a cascade of colour
Harrogate College students have contributed to a stunning art installation at Himalayan Gardens & Sculpture Park.
Artist Anna Whitehouse held collaborative workshops with lots of people, including our Level 2 Art & Design students, to create 1,300 ceramic blue poppies.
Painted by hundreds of hands, the resulting artwork creates an illusion of a 'poppy river' flowing down the North Yorkshire attraction's hillside.
The Himalayan Gardens & Sculpture Park commissioned the installation back in 2019, but it was put on hold due to the pandemic.
The enchanting Himalayan Blue Poppy (meconopsis) is known for being difficult to grow in the UK, as it needs a certain kind of soil. The species flourishes, however, in the Himalayan Gardens which enjoys a flush of poppies every year.
Ceramics specialist Anna, who led the workshop with the students, uses her passion for environmental issues to fuel her art and drive community projects.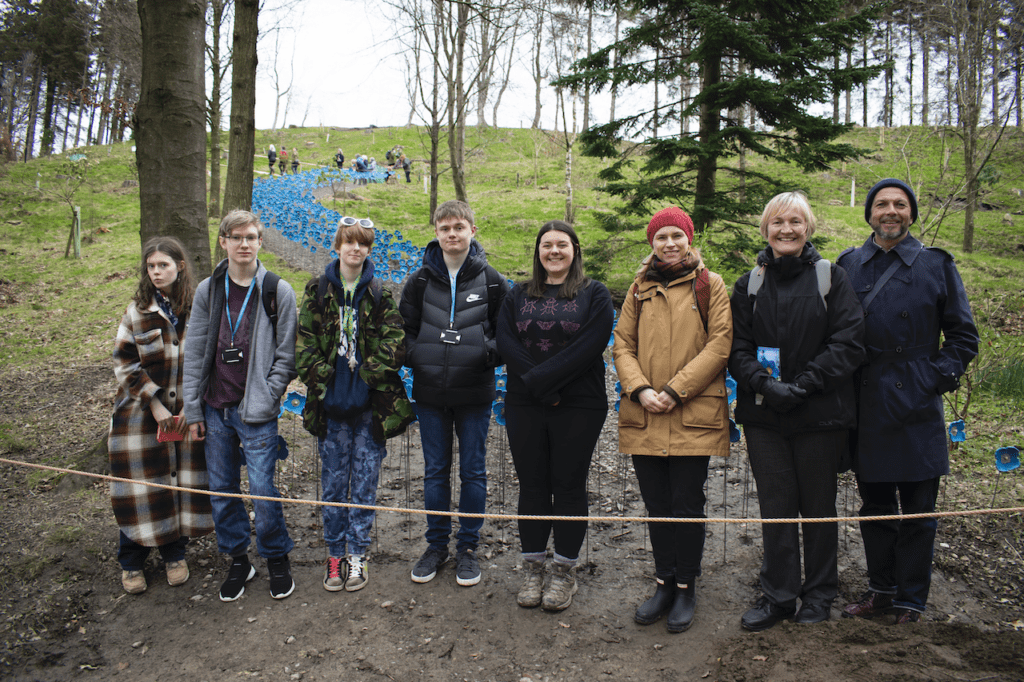 The poppy process
Each of the ceramic poppies, which were created by 450 people, were handmade, glazed, fired and painted.
Anna said: "Different people's hands do different things. There's the decoration on the back of each poppy, the way they've moved the petals to shape them, the kiln reactions and colours.
"Each poppy has been personalised by its maker; with messages of freedom, names of family and friends, and those they have lost."
Commenting on how the poppies look on site, she added: "Then it's seeing them differently, almost like a river flowing down the hillside."
An insight into the industry
Level 2 Art & Design student, Keiran Holland-Eadsforth, said: "From doing the workshop I learned how to work on-demand, producing something that a client wants. This gave me an insight into working in the art industry."
Student Olly Cook added: "I learned how to create stippling on a clay texture at a higher level than I'd done before."
The Himalayan Gardens are open to the public over the summer.
A few tips on how to grow a poppy
Despite the Himalayan Blue's reputation, other poppies are less tricky to grow. They are best sown in spring where they will flower through to autumn.
Here are a few tips on how to grow poppies in your garden.
Choose a spot that allows a decent amount of sunlight.
Weed the area and sprinkle your poppy seeds on well-drained soil
Water frequently, but not too often
Let the magic begin!