Comic-con inspiration for our creative arts students
Our students have been showcasing their creative talents as part of an annual celebration of comic art.
The Thought Bubble Convention is a two-day event that marks the achievements of illustrators, graphic art, comics and fans.
Our level 3 creative practice students, who get free passes to the event, enjoy attending to meet artists and others from the graphic art community, and share ideas. The students also, as part of their coursework, get the chance to produce their own zine (a self-funded magazine or fanzine) from scratch to display at the convention.
The topics covered in this year's zines ranged from Michael Ryder's supernatural adventure comic, The Vengeful Beast, to a photographic meditation on mental health, by Laila Fairholm. Bronagh Humphries, meanwhile, used a concertina format, featuring iconic images of Scarborough, for her zine.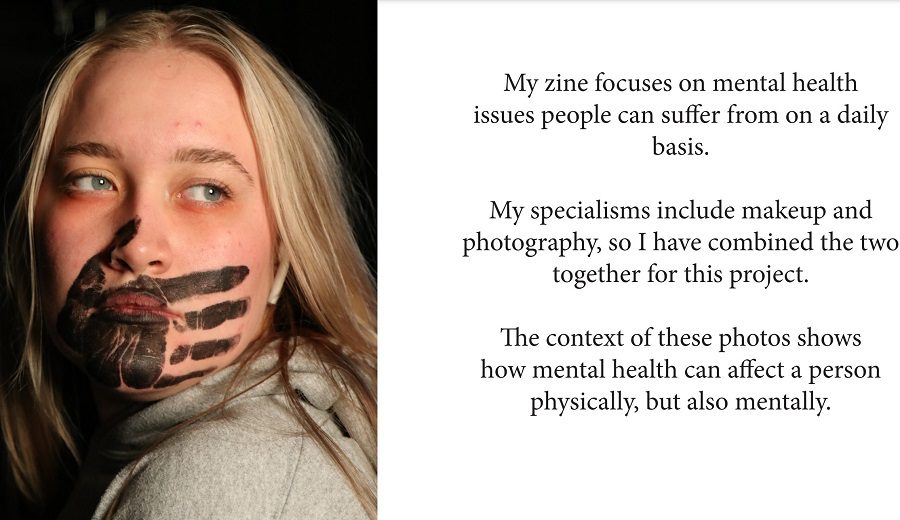 Rising to a unique challenge
The students all relished the challenge, which Michael hailed as 'unique and fun'. He added: "I have found the course so far to be a very good way of improving my skills in the creative industry.
"Working with other creative people has made the atmosphere in the class very friendly and everyone is willing to help each other, which has helped me settle in.
"The Thought bubble convention was a very important opportunity to see other people's work and learn how they promote it. The artists were very friendly and seeing what they were doing really inspired me. Having our work shown there, knowing it was being looked at by loads of people, was an amazing experience."
A joyous creative experience
Programme manager for MA Creative Practice, Dr Annabel Smith said: "Over the last couple of years I have built a relationship with the organisers of the Thought Bubble Convention.
"We have used this opportunity to set an exciting brief for our level 3 creative practice students, with each setting their story within their own specialism to design and format a zine – whether it be photographic, illustrative, digital or hand-rendered.
"This year the students did themselves proud and produced a wide variety of styles, stories and outcomes. They all attended over the two days and realised what a broad range of artists and styles are out there in this community.
"To add to the fun, many visitors dress up as their favourite characters from comic adventures. It was a joyous and happy crowd of people, and our students really related to the creative atmosphere."

Held at Harrogate Convention Centre, this year's Thought Bubble Convention was held in November when more than 400 comic-creating exhibitors took part over the two days.