A day to celebrate Afghanistan
As someone whose life has been threatened for playing football, Sabreyah Nowrozi knows all about the dangers that cause refugees to flee from their homelands.
Sabreyah was captain of the Afghanistan women's development team when the Taliban – which bans women from competing in sport – seized power on 15 August 2021.
Instead of preparing for their next tournament, she, her teammates and their families all ended up scrambling just to escape the country alive.
Sabreyah has gone on to forge a new life in the UK, where she is continuing her football career with Harrogate Town AFC Women, studying with us, and working as a teaching assistant.
Shining a light on a country's culture
On Tuesday 13 June (in the lead-up to Refugee Week), the 25 year old will help us hold our very first Afghanistan Day to shine a light on her homeland's rich culture.
She said: "I think most people just know about the war and troubles we've had in Afghanistan, but this day will be a chance to show the other side and share information about our culture and the country's positive qualities.
"We'll be showing films about its history, from the old days to present times, which I think are amazing!
"We'll also be sharing some artwork, poems, songs and readings, and traditional dress. There will be a selection of Afghan dishes – which I'm making at home, with friends – to sample too, for a small cost, with the money raised going toward women's healthcare and education."
Fleeing to safety and a new life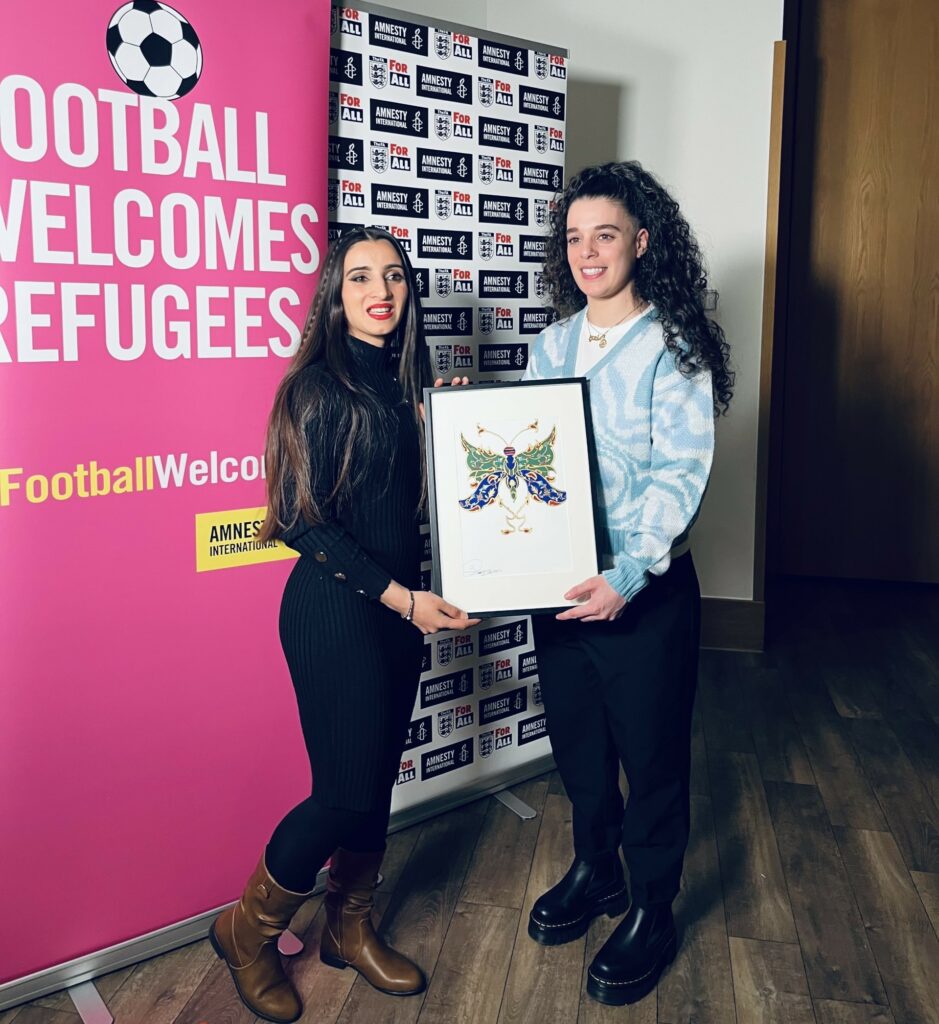 Sabreyah is studying English for Speakers of Other Languages (ESOL). We have seen a recent upsurge in ESOL student numbers, which jumped from 60 in 2021-22 to over 140 this academic year. Many are refugees who have endured all kinds of risks to escape from places, like Ukraine and Afghanistan, ravaged by conflict.
Sabreyah's own journey to safety – first to Pakistan and then, through a flight that was paid for by Kim Kardashian, to the UK – was fraught with danger, and saw her and her teammates interrogated at numerous Taliban checkpoints.
She said: "I had a very good time playing football in Afghanistan but when the Taliban came everything finished and, as a football player, I felt I couldn't continue in the country.
"They were so angry with me and told me never to come back, or they would kill me. I thought: 'we need to move, now' – it was a dangerous time for me and my family,"
With the situation in Afghanistan still very unstable and the Taliban in power, Sabreyah is now focused on her and her family's future in the UK – and has her sights set on a psychology course at the University of York. 
Afghanistan Day will be held in the Adult Learning Zone from 11am to 1pm.