Student's water-based art trail delights Fountains Abbey visitors
An artist from Harrogate College has teamed up with the National Trust and Henshaws to create a stunning water-based art trail.
Catt van Leijen's, Waterlogged, features a series of nature-inspired artworks that have been installed in and around Fountains Abbey's Water Garden and stream.
MA Creative Practice student, Catt, is a long-established artist and a pottery and paper tutor at local charity, Henshaws, where she has worked for 12 years.
So when it came to doing her course's 'collaborative project', she knew she wanted to involve the Art Maker students that she teaches at Henshaws Arts and Crafts Centre.
The results, including everything from colourfully painted bird and animals, to floating Roman goddess heads, went on display on 28 May and have been enjoyed by thousands of visitors.
Inspired by nature and the need to connect
Catt said: "As the brief was very open, it gave me a great deal of scope for my own interpretation on how I would like to lead this project, from an artistic standpoint and as project manager.
"The inspiration was the nature around us, and getting people out into the fresh air to follow the trail. This focus on connecting with nature, I hoped, would be beneficial in so many ways, including physically and emotionally.
"The complete trail itself is a few miles round so it encourages people of all ages and abilities to connect with the sculptures in their natural setting."
Catt was delighted to get lots of the people she teaches, and works with, at Henshaws involved – both in the initial discussion and then in creating the artwork.
She said: "I really believe that the students at Henshaws deserve their work to be included in projects like this. And it served as a fantastic opportunity to give our Art Makers a platform in a wonderfully open and public space."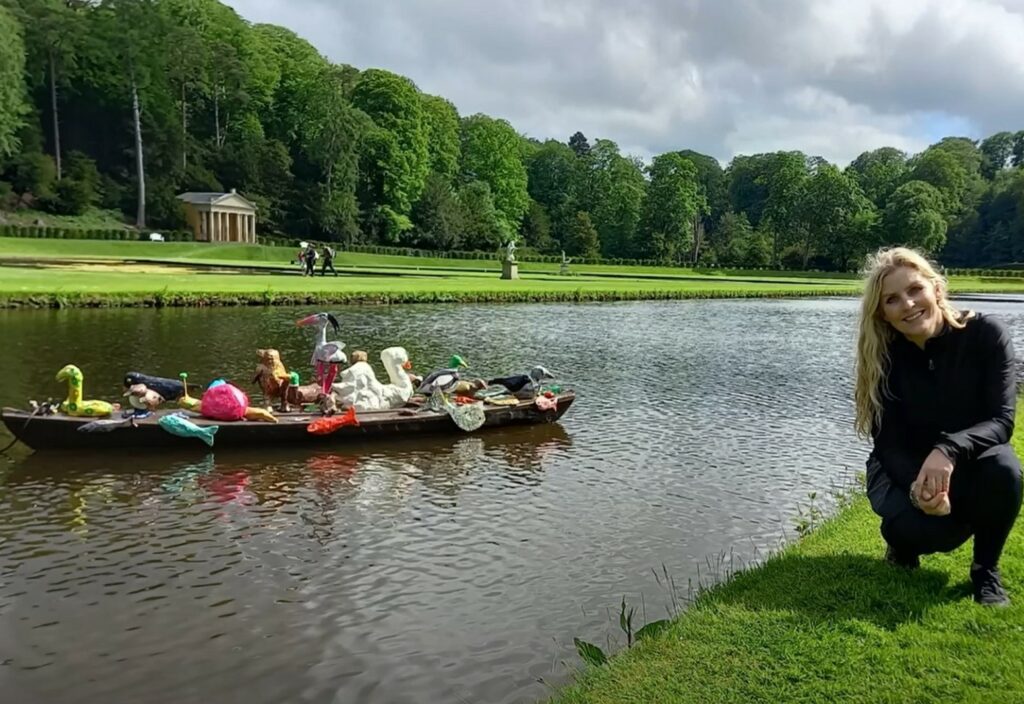 The trail includes boards with fun animal facts along with, in a nod to The Skell Valley Project*, information on recent flooding and the impact of global warming.
A heady experience on the water
One of the most striking features meanwhile, five porcelain floating heads, were made from a mould that was taken of Catt's own head.
She said: "These are my take on female Roman goddesses. The Moon Pond Garden only seemed to have male statues, based on Roman figures.
"As I am interested in swimming and nature, I thought it would be quite a playful idea to incorporate five swimming heads which are also related to the goddesses Luna, Salacia, Diana, Minerva and Flora.
"The idea being that animals and humans should all be able to enjoy nature and be part of the narrative along the water."
Displaying much of the artwork actually on the water turned out to be a challenge in itself, but gave the pieces the impact Catt wanted.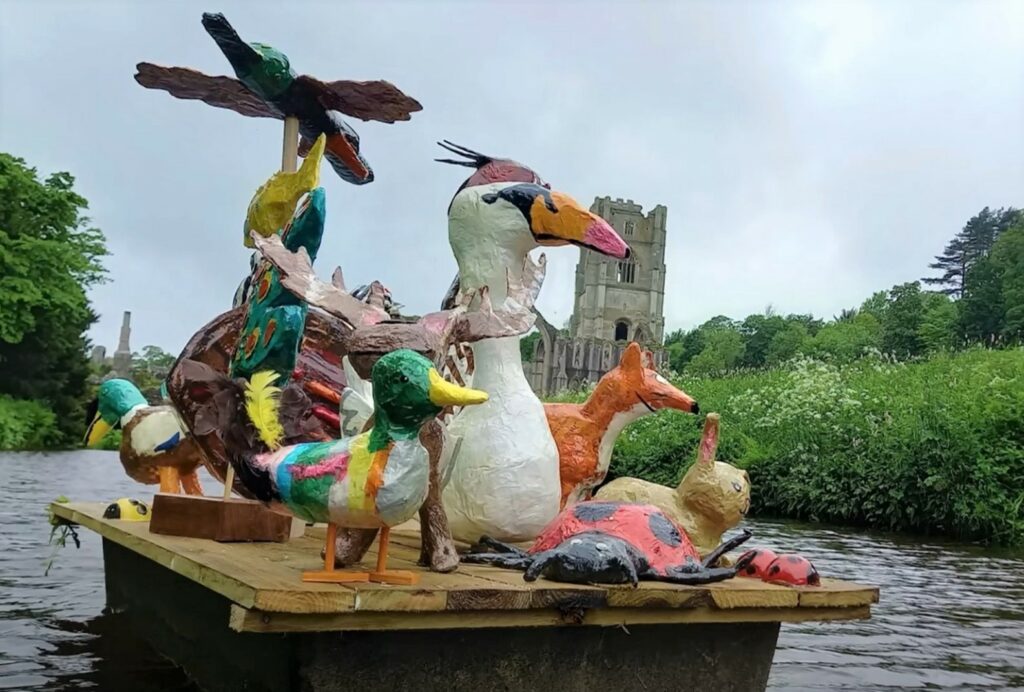 Setting the scene
She added: "I decided they needed to be enjoyed from a distance, and what better way than actually on the water? So I sourced two boats, filled the gaps, applied resin, and sanded, painted and varnished them.
"We made two rafts from pond linings and seasoned wood, and used these as a platform for all the artwork. Then, on the second installation day, we put these in the water.
"Due to the risk of cross-contamination from footwear/equipment, the gardener at Fountains Abbey also went in, wearing his own extremely long waders, to secure the vessels."
*The Skell Valley Project is a multi-partner initiative, co-led by the National Trust and Nidderdale Area of Outstanding Natural Beauty, to safeguard the valley's cultural and natural heritage.