Harrogate College empowers Hospitality students with Asian Street Food evening
Our students hosted a successful South East Asian street food evening, as part of the college's continuing support for the hospitality industry.
From cooking delectable dishes to serving over 40 guests, the students embraced the fast paced, customer-centric environment, and were rewarded with overwhelmingly positive feedback.
This event marked a significant milestone for our learners, especially for Dylan Bibby, who was keen to explore Asian cuisine as a chef for the very first time.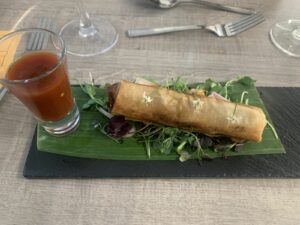 Not only did Dylan acquire new culinary skills through this experience, but he also received outstanding support from the college staff. 
He said: ''This event was so fun; it was my first time trying Asian cuisine as a chef, so I also picked up some new skills.
"The staff here at Harrogate College are always kind, patient and willing to help. They explain everything very well and go into detail when we need more information.''
Looking ahead, Dylan wants to continue his journey with us by enrolling in the Professional Cooking course. While he may consider apprenticeships opportunities, his primary choice is to remain at the college.
Passionate Hospitality team
The hospitality team's next venture, the Tour of Italy, promises to be an exquisite experience. Led by Salvatore Pinna, the our new chef lecturer from Sardinia, this event will showcase the team's commitment to culinary excellence.
Recognising the importance of practical learning and essential life skills, we actively collaborate with local employers in the hospitality sector to foster valuable partnerships.