Students give back to the community through police volunteering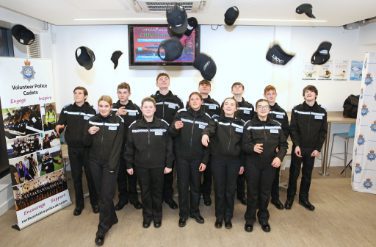 At the start of the academic year, 12 young people including Harrogate College students met once a week during term time to learn about policing and the law. They were involved in sport and drill sessions and at the end of December, they took their cadet oath in front of senior officers, family, friends, special guests and college staff.
The students will now be expected to volunteer an additional three hours per month to policing activities to help their local community.
Helen Garnham, Director of Curriculum at Harrogate College, said: "We are extremely proud to be able to support this fantastic project, giving young people of Harrogate as well as our students a fantastic opportunity to immerse themselves in something so worthwhile.
"It benefits them personally as well as our local community. We look forward to following their progress over the coming year".
Harrogate is the fourth volunteer police cadet unit opened by North Yorkshire Police and aims to encourage confidence and positive citizenship among young people.