Helping Harrogate's young carers cook up some fun
Young carers have been putting their culinary skills to the test with us.
Members of the Harrogate Young Carers group – part of Carers' Resource – have all had to shoulder the responsibility of looking after a sibling, parent or other relative at an early age.
That means they often have limited opportunities to enjoy themselves, so when they do get a chance to have fun they grab it.
The college helped them do just that recently when we invited 18 young carers along to use the training kitchens.
The visitors made the most of the opportunity by creating pizzas from scratch, batches of brownies and more. The event was supported by RAF Menwith Hill, which supplied the ingredients, and Heck Food Ltd, which donated a variety of sausages so the children could guess what each one was made of.
A great day out making treats
Young Care Practitioner at Carers' Resource, Linda Hall said: "The young carers had a fantastic time; the feedback was that they had the best day ever, and didn't want it to end!
"This was a chance for them to have some respite, away from their caring roles, and to be with others who are in the same situation. They had the pizzas that they made for lunch, made brownies to take home, and enjoyed quizzes about chocolate and other foods.
"The venue was perfect for them as they feel really grown up there, and love the whole set-up of the kitchens. We are very grateful to the college for the invitation and its support."
The kitchens are usually used by our catering and hospitality students, including on themed dining nights which are open to the public. This autumn the facilities will also be used by those who sign up for two new courses, an After School Cookery Club and, for adults, an Italian cooking course.
A warm welcome for 'extraordinary visitors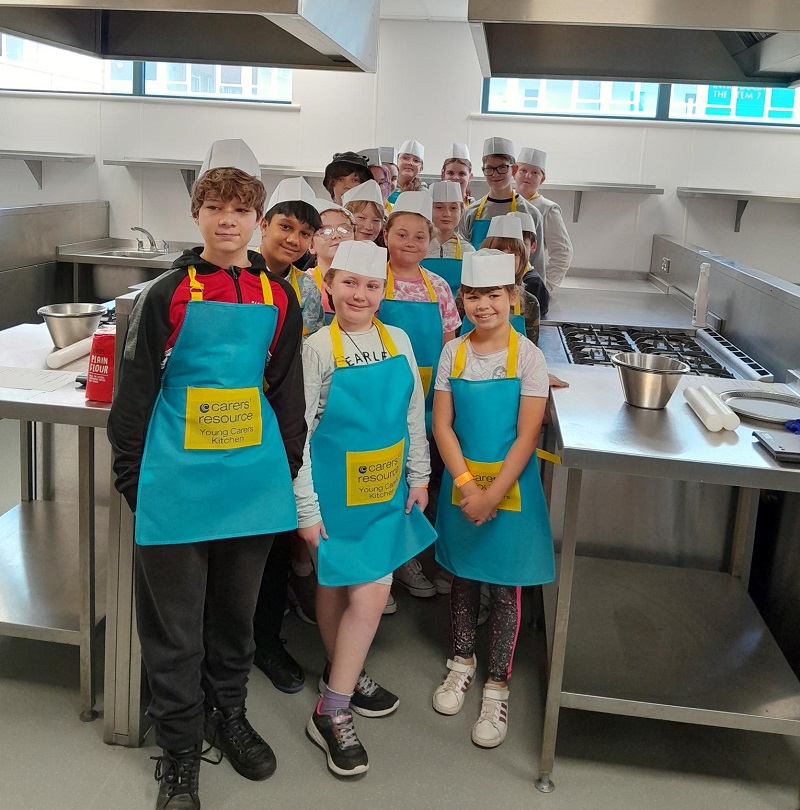 We have invited young carers in to use the kitchens before, as part of our wider support for the group. Hospitality Programme Manager, Jason Parry said: "These young people do extraordinary things every day for others, while also having to deal with their studies and all their other everyday duties.
"So they thoroughly deserve any chance they can get to have fun and enjoy some carefree moments.
"We are delighted to support groups like Harrogate Young Carers, which do such brilliant work in our local community, whenever we can. They are welcome back any time."
The team at Carers' Resource supports young carers in the Bradford, Harrogate, Craven and Selby districts by organising trips, activities, mentoring, youth clubs and more. To find out more visit www.carersresource.org/young-carers/ .